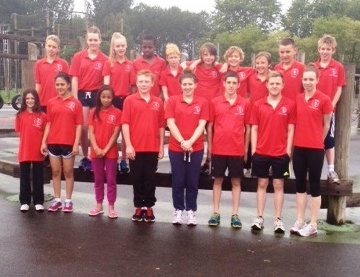 18 eXcel swimmers from Canterbury, Margate and Dover visited the Puyenbroek sporting complex near Ghent in Belgium on Saturday and Sunday the 11th and 12th of July. We travelled out on P&O Ferries via Dover to Calais and whilst the sea was calm the weather was damp and rainy all weekend!! We did have a 2 hour window Sunday morning when we sneaked outside into the children's "Keep off the ground" playground!!!
During the weekend our swimmers spent time doing flexibillity and dynamic stretching excercises and covered between 20000 and 27000 metres in the 50 metre pool. Quote of the week "I prefer to do long distance stuff cause then I don't have to go so fast.... but don't let Scott hear", this said out loud at lunch whilst sitting opposite me at the table!!!! (No names.....)
| | | |
| --- | --- | --- |
| | | |
| Pencil jumps and fly kicking to the ceiling!!! | Luurt giving some feedback to his lane | Coaches are all camera shy!! |
| | | |
| Yes a few boys and a couple of girls made the monkey bars!!! The coaches had a go too and were rubbish!!! | Help me I/m stuck!!! This pole keeps turning round!!! | I thought tyres were something coaches had round their waist!!!! |
| | | |
| They look like statues but they were moving their necks!!! | Happy faces at Supper!!!! The session must not have been hard enough!!! | |
Our happy training campers just before we arrived back in Dover!!!!